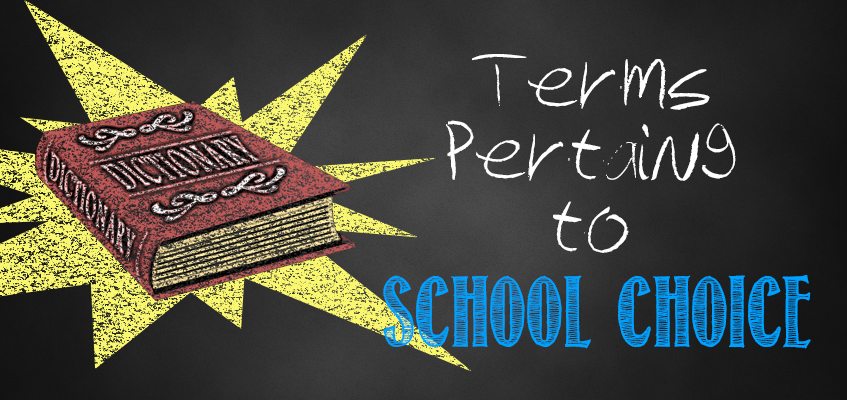 Classroom or learning center:   A classroom is normally a place where a teacher presents academic materials based on a calendar and specific lessons developed for students according to age and grade level.  All students are required to learn material on the same schedule.  Students listen, take notes, and complete assignments and tests as a group.  Learning centers are places where students focus on mastering content through individualized learning, rather than focusing on receiving material and concepts presented by a teacher.  Homeschool is usually facilitated through the learning center concept in which students learn from print, digital material, or online. Students in learning centers are guided through academic material and experiences by a proctor/parent while mastering material at tables, computer stations, couches, cubicles, or desks. Students are allowed to complete academics as rapidly as possible or as slowly as necessary to master the material.
College or Career preparation:   Most families that prefer school choice anticipate some form of post-high school training—- college, military, missionary service, or career technical school. Teenagers usually graduate from high school with some type of dream.  They want to "do something significant in life."  However, most youth do not know what they do not know.  That is why parents are wise to expose teenagers to a variety of life options through vacations, industrial sites, colleges, missionary stations, and museums.   If possible, parents should access evaluations that identify students' temperaments, personalities, gifts, skills, interests, and aptitudes. Such "tests" are available through military recruiters, counselors, and university registrars.
Curriculum:   State guidelines vary. Curriculum used in school choice programs variously consist* of print, digital downloads, and online interactive courses.  Most curriculum consists of hardback textbooks packaged for specific grade levels. Many families prefer academics based on independent learning with individualized materials, because students are not dependent on parents or proctors to teach face-to-face. Some curriculum providers offer "complete packaging" that includes daily lesson plans, automatic scoring, and ready-made quizzes and tests.  The disadvantage of many such programs is that students are "lock-stepped" into an inflexible calendar and lessons.
Many parents prefer what is called the "eclectic" approach, that consists of choosing academic materials that address particular student/parent interests. A common compromise is to take advantage of a multitude of options available to families.  Some children prefer programmed systems that dictate how, when, and where academics are completed.  Other students prefer combinations of textbooks, computer-generated lessons, tutors, and seminars. Parents should invest time to study options, and select the best academic packages that accommodate family priorities and finances.  Parents can explore the internet for educational choice options in their specific communities/states.
Diploma:   A diploma is a printed document that verifies a student has completed a high school program.  Graduation programs vary widely.  Some states dictate requirements for a high school diploma, such as the minimum amount of transcript credits, accreditation status, specific courses to be completed, teacher credentials, hours of scholar attendance, curriculum, etc.  Most states require at least 21 transcript credits, including four credits each in English and social sciences, two-to-three credits each in science and mathematics, one credit in physical education, one to two credits in a foreign language and/or sign language, one credit in computer-competency, and six to seven elective credits (psychology, industrial skills, reading enhancement, home economics, equine management, culinary skills, etc.).  Parents of homeschool graduates may order pre-printed diplomas from state homeschool organizations, print their own diploma, or receive a diploma from an online provider.  A diploma includes the name of the institution, name of the student, date, and signatures and titles of faculty * issuing the diploma.
Educational choice:   Educational choice is simply that.  State legislatures provide educational options for families, including charters, homeschool, magnet campuses, contract campuses, school-within-a-school, micro-campuses, open enrollment, school-home arrangements, and private academies.  State guidelines vary. For example, Texas considers homeschools as private schools. Other states impose restrictions regarding curriculum, teacher-certification, days of attendance, and mandatory accountability to state officials, etc.  An estimated 12-to 14 percent of school-age children participate in some form of educational choice in the United States.
Grade books and Report cards:    Report cards and academic grades should be maintained by parents or proctors in-order-to validate transcript credits.  A grade book is a good idea for recording quizzes and tests.  Software is also available, but is not necessary.  A simple spiral-bound grade book is usually adequate.  Normally, at least a dozen quiz/test grades are recorded to validate completion of a high school course. Report cards are periodic records of grades earned in six or eight week intervals during a school calendar year.  However, report cards are not necessary for homeschoolers, unless a student plans to transfer to a campus setting.  (In such a case, a student would be required to repeat courses for which no evidence of completion was available.)
Transcripts:   As soon as a student enrolls in a high school level course (regardless of the age of the student), the parent/proctor should initiate a high school transcript.  High schools and colleges, employers, and military organizations, usually require a transcript that lists every course completed by date and the grade earned.  Transcript templates are available from homeschool organizations, online providers, and school supply stores.  Transcripts normally include the name and address of the educational institution (academy/school/institution), official name of the student, his/her ID number, academic status/rank among other graduates, lists of all completed or failed courses, average grades, date, scores on standardized tests, and college entrance exam results.  *
An annual Academic Contract should be initiated every year to plan each student's academic load leading to a diploma. The Contract is based on the Transcript Planner which lists courses to be completed for a diploma.  The Contract projects exactly what materials should be completed according to a reasonable time table. Most programmed materials are organized in convenient modules that are easily planned and projected for completion.  Paradigm Accelerated Curriculum provides a FREE video that explains how to use a Transcript Planner and Academic Contract with each course.