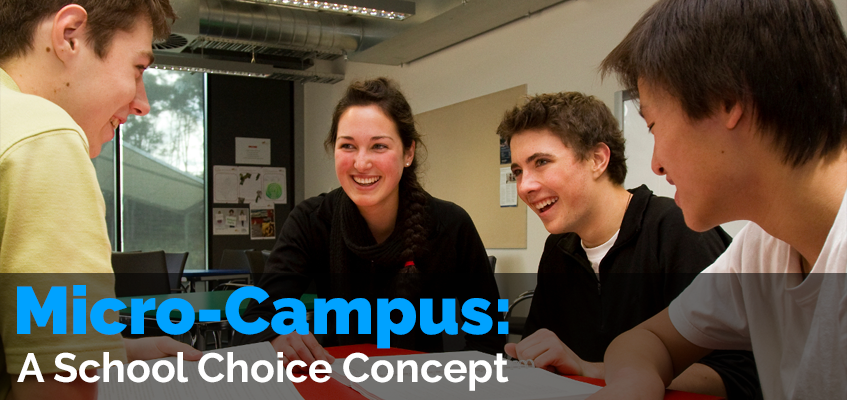 You want to start an alternative to secular public schools, but the thought of large buildings, classrooms, and teachers – all the complicated stuff you remember about your school days — makes you break out in a cold sweat and hives.  I don't blame you.  I was a teacher, principal, and superintendent; and believe me, those experiences turned my hair grey!
That's why I redefined school, textbooks, and the role of teachers, and packaged the concept as Paradigm Micro-Campuses.  My award-winning "out of the box" educational concept enables educational entrepreneurs to set up and operate high quality schools in such places as vacant restaurants, homes, Sunday school rooms, commercial businesses, health food stores, and warehouses.
The Paradigm Micro-Campus concept earned international acclaim for academic effectiveness and financial benefits.  The secret was to redefine education, eliminating traditional thinking based on teaching via hardback textbooks in lock-step classrooms with rows of desks. Then, placing emphasis on student learning via character-based, individualized curriculum in print, on smartphones and tablets, and online.
Moreover, the micro-campus concept places most learning in homes, rather than at a brick-and-mortar facility.  A hard fact is that traditional private schools based on the public school classroom model are closing hand-over-fist for several reasons.  They are extremely expensive to finance; the digital expertise of contemporary youth launches them into instant boredom in classrooms based on grade levels and age; in average secular classes of 50 minutes, only about 17 minutes of actual learning takes place; that's why students have to do so much home work to fulfill teachers' lesson plans; thick textbooks designed to mold students into homogenous beings irritate parents and students, who want to be individuals.
Perhaps, most significant is parental awareness that students should not be forced to march to the crowd's drumbeat—that each student has talents, gifts, and interests that ought to allow him or her to pursue dreams without conformity to peers and government regulations and curriculum.   But you already know all this.  Let's forget "in-the-box" education, and discover a better system: The Paradigm Micro-Campus.
Here's how a Paradigm Micro-Campus works:
First, think of individualized learning rather than classroom teaching.  Remove your mental image of "school'.  Wrap your mind around the idea of individualized learning, whereby students complete courses at their own paces…. rather than listening to teachers who attempt to hold attention of 35 same-age teenagers sitting in rows of desks, texting, or being distracted by blaring announcements over a campus sound system.
Think about a place such as a church or business office: no classrooms, no halls, no teachers—only a desk, secretary, closet, storage room, and access to a room big enough to support two 8ft tables, six or eight chairs, a teakettle, a small refrigerator, and a
Wi-Fi system.  Such a room can accommodate students who want/need a secure place to complete PAC courses (in the event parents need to be away from home).  In such a situation, the "school" provides oversight, but not academic instruction.  The unique PAC material is basically non-teacher dependent, not requiring explanations.  Obviously not a traditional school!
Visualize students working academics at home, grandpa's farm, in dad's eighteen-wheeler, or anyplace, any time under watch-care of parents who serve as proctors, but do not plan lessons, teach, or design tests.  Moreover, visualize students who grade their own daily work at home, while parents take care of other children in the home. You are beginning to rethink school.  That's good!  Get out of the box.
Now visualize the student and parent approaching the micro-campus secretary to request a school registration packet:  an information brochure, an enrollment application, a transcript planner, an academic contract, registration and curriculum fees, and the testing schedule, as well as a list of applicable micro-campus support groups that sponsor such events as field trips, science demonstrations, music classes, art lessons, archery training, and college-test preparation.  Nothing is mentioned about teachers, classroom schedules, and heavy textbooks that conform to government standards.
Visualize the secretary asking the parent to complete the enrollment application and schedule a follow-up visit in which the student's report card and transcript from a previous school are brought to the "school" secretary.  The parent pays a registration fee and agrees to pay a modest monthly student testing fee.  The parents, student, and secretary will fill out a transcript planner, and prescribe individualized courses for the student to complete for transcript credit during the "school year."  The parent pays for course kits of Paradigm Accelerated Curriculum (PAC): English, social studies, science, etc.  plus, shipping costs.  The campus assumes no responsibility to purchase curriculum.  That is the parents' responsibility.
The Paradigm curriculum is ordered by, and shipped directly to, the micro-campus secretary, who removes quizzes, tests, and pertinent answer keys. She places the student's academic quizzes, tests, and answer keys in a student folder for future application. The parent and student are invited back to the micro campus office to pick up their Paradigm Curriculum kits, and to watch two power-point presentations on proctor and student responsibilities pertaining to academic goal-setting, scoring activities, filling out congratulations slips, recording grades, and maintaining the Academic Contract and Transcript Planner.
Visualize the student going to the campus to take section quizzes and chapter tests on Sunday morning, some mid-week evening, or as arranged with the campus secretary, or some other campus-approved proctor.  All academic work is done off campus.  All testing is done under supervision of campus-approved proctors who score and record grades. Remember: no classrooms or teachers are needed at the micro-campus location.
After completing a section quiz or chapter test (as scheduled with the proctor), the student returns home to commence completion of the next lesson in his/her prescribed Paradigm course.  The micro-campus proctor texts or emails the student's quiz/test score to the parent within a few days.  Both the proctor and parent record the successful completion of the pertinent section or chapter, and notes on the Academic Contract that the lesson has been completed.
Students who score less than 70% on a quiz must repeat the pertinent section activities, and retake the failed section quiz.  Such students pay an additional "quiz penalty fee." Students who score at least 85% on the three section quizzes in each chapter, may be exempted from the chapter test.  This practice motivates students to "over-learn" in order to avoid failing quizzes, and to maintain a high grade-point average needed for matriculation to college.
Remember: students are not lock-stepped into a course completion schedule based on the calendar or a teacher's schedule.  Students are encouraged to complete academic work as rapidly as desired or as slowly as needed (special needs) anywhere, anytime.  Rethink school!  The concept of graduation requiring twelve years is ridiculous.  Every student is capable of completing all diploma work according to individual initiative, intelligence, and aptitude.  Let them learn at their own accelerated pace!
Periodically, students may assemble with other micro campus families at arranged facilities to engage in such scheduled events as field trips, seminars, music festivals, football games, softball tournaments, music lessons, art classes, just to hang out, or work on PAC courses in the proximity of peers, with whom students periodically socialize.
Graduation ceremonies may occur whenever students complete diploma requirements or in May, as preferred by the parents, who may choose a private ceremony rather than a collective campus event.  The parent pays a graduation/diploma/transcript fee.  The campus secretary retains student records indefinitely in order to supply transcripts to employers, military, and college registrars as requested.
In summary, the Paradigm Micro-Campus concept requires minimum facilities, personnel, and administration.  Parents need not pay typical expensive, traditional school tuition fees; nor is the campus required to maintain expensive buildings, teachers, electricity service, insurance premiums, transportation, etc.  The micro-campus concept offers a win-win arrangement for families and entrepreneurs.  YOU can start your own Paradigm Micro-Campus now!  Just get out of the box!
For more information on how you can start a micro-campus or for other inquiries regarding school choice, contact us.