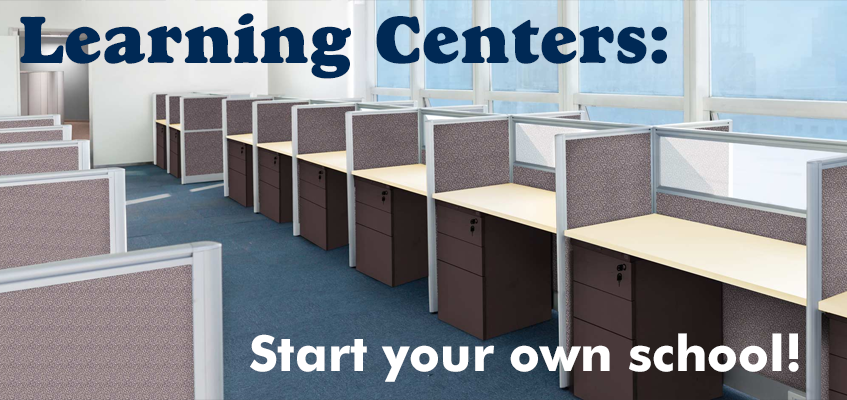 As the nation moves toward implementation of educational choice, entrepreneurs will begin to explore the possibility of operating for-profit learning centers under a voucher-supported system or contract with local public schools in order to supplement and address the academic and emotional conditions of students with special needs.  The following information is provided to stimulate implementation of entrepreneurial-based learning centers in local communities where parents and/or public school officials desire to partnership with the private sector to save money, reduce dropouts, and accommodate the needs and desires of students who prefer to complete their high school education through individualized learning in print, digital, and/or audio-enhanced learning in off-campus learning centers, while remaining associated with private and/or public educational programs.
DEFINITION OF A PRIVATELY-OWNED LEARNING CENTER:   
Contract or voucher-based learning centers are privately-owned educational choice entities that provide individualized instructional services to students with special needs under a for-profit business arrangement with parents and public school officials.
At least 13 states offer some form of vouchers for subsidizing school choice for children with special needs, including foster children and students with Individual education plans (IED).  As of May, 2017, the following states offer some form of voucher for children to attend private schools.  State regulations and requirements vary, including such items as accreditation, geographic area, household income, academic tests, and military status.
Arizona, Florida, Georgia, Indiana, Louisiana, Maine, Mississippi, North Carolina, Ohio, Oklahoma, Utah, Vermont, Wisconsin, Washington.
TARGET STUDENT POPULATION
The target student population includes students who prefer individualized learning that enables accelerated mastery of courses, and/or students with special needs such as ADD, ADHD, loss of credits, underperformance, traumatized from assault, abandonment, or accidents, limited English proficiency, audio-learners, sight-limited, over-age, and/or other unique factors. The learning center is applicable, but not designed, as a punitive correctional program.  It is an accelerated credit recovery program for students who need access to an alternative to standard classroom procedures and materials.
METHOD OF LEARNING
All lessons are presented through individualized courses for grades 7-12 available from Paradigm Accelerated Curriculum in print and/or digital and audio-enhanced learning deliverable on personal computers, laptops, tablets, or smartphones.  Students are guided by proctors who assist students in setting and completing daily and long term academic goals based on a Transcript Planner, Academic Contract, Daily Academic Objective Chart, and courses stipulated by state and/or district officials.
TRAINING FOR PROCTORS
Educational entrepreneurs are trained via several Paradigm publications: The Six Principles of Individualized Learning, Student Responsibilities in an Individualized Learning Center, and Vocabulary of Public School Programs, plus two power-point presentations: Proctor Responsibilities in an Individualized Learning Center, and Parent/Guardian Responsibilities in an Individualized Learning Center.  Additional training is available for purchase from Paradigm Alternative Centers, Inc. on such topics as facilities, budgets, staff, preparation with local district personnel, inspiring students toward noble dreams, and business skills. For more information on training, contact us.
ENTREPRENEUR QUALIFICATIONS  
Entrepreneurs should be familiar with public school operational procedures, policies, and vocabulary, especially regarding graduation requirements, student discipline, essential academic elements, public education information management systems, and local district circumstances such as percentages of dropouts, graduates, underperforming students, teacher shortages, classroom disturbances, and other trustee, teacher, administrator, and parental concerns.
The entrepreneur should possess professional credentials (college degree and certification in at least one academic or administrative competency. Note: at least one staff person should be certified in Special Education. One on-site person should be competent to set up and provide technical assistance with internet, tablets, and software issues).
That scope of competent staff will generate public confidence in the privately-operated learning center.  The entrepreneur should be capable of operating a private business based on such topics as profit-and-loss issues, personnel salaries, state and federal tax issues, accounting, and solid financial management skills.
FACILITIES  
The size and type of facilities will vary with the scope of services offered.  Ideally, the individualized learning center operates most efficiently when each room accommodates about 17 multi-grade teenagers situated in study carrels located around the perimeter of the room (normally the size of a standard classroom).
Some districts allow alternative learning programs (such as the individualized learning center) to operate two, four-hour shifts in which students attend either AM or PM sessions.  This arrangement allows entrepreneurs to serve a larger student population from one facility (most students are able to complete a sufficient volume of academics in four hours daily during the normal school year to accelerate and satisfy graduation requirements).
Students seem to perform best when the Learning Center is located away from, but near, the regular public school campus.  Successful programs can be operated in such places as strip malls and buildings previously occupied by families, restaurants, and churches (because they already have restrooms, office space, kitchen, and occupancy permits).
MINIMUM CONDITIONS  
The contract should stipulate that the entrepreneur will select instructional materials which may not be on the state textbook adoption list (because most state-adopted instructional materials are designed for classroom environments, thus are not conducive to effective individualized learning for students with special needs, but will prepare most students for post-high school studies and careers).
The initial contract should stipulate a minimum of two years, with automatic renewal for two-year increments.  This is essential for parents to have assurance that students will have reasonable time to demonstrate effectiveness of the "pilot" project to improve student performance, to provide assurance that the entrepreneur has opportunity to recover his/her financial investment, to provide employment security for contract staff, and to allow ample time to make reasonable adjustments in the event the district or entrepreneur decides to terminate the contract.
PROPOSAL TO PARENTS AND/OR APPLICABLE SCHOOL DISTRICT  
A professional-level power-point presentation, based on the above information and other materials available from Paradigm Alternative Centers, Inc., should be prepared for consideration by parents, district administrators, and trustees.  The entrepreneur should keep in mind that non-traditional learning programs are sometimes "scary" to conventional-minded parents and educators who need assurance that parents and the general public will not lose confidence in district personnel (administrators and trustees) for engaging in an alternative learning program.
The presentation should avoid implying that the entrepreneur knows "what is best" for parents, students, and/or the school district; however, the presentation should demonstrate that the entrepreneur has done his/her homework regarding potential facilities, furniture, curriculum, personnel, and accommodation of state educational policies.  The presentation should point out that students will likely benefit from access to the tried and proven individualized Paradigm Accelerated Curriculum and learning system.  Some school administrators prefer to enter a "two-year automatic renewable pilot project" to protect the district from possible critics who simply want to dash cold water on the idea that someone outside the district can provide effective educational services.  The concept of a pilot project provides a sort of safety net for both the district and entrepreneur.