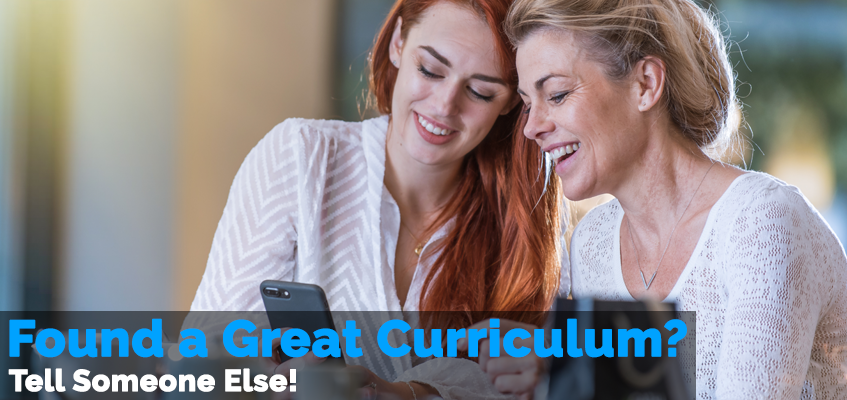 Thoughtful homeschool families help friends who are struggling with homeschool issues or curriculum selection.  Too often, homeschool parents take a blind leap into curriculum advertised on the internet.  Don't do that!  Take time to read reviews and talk with other homeschool families in order to filter out "stuff" that will not meet your family's needs.  Just because a particular textbook brand is advertised with a lot of glittering slogans does not mean that product will be a good fit for your teenager.
Every year, parents tell me they tried certain brands of books or online programs that just did not engage their children.  Unfortunately, money was already spent, and the families "had to get our money's worth", so their students struggled through the material.  The downside of such a practice is that teenagers develop a bad taste for homeschooling, and often pressure parents to reconsider public school.  That, of course, is not a positive solution, and is unnecessary.
So, if Paradigm Accelerated Curriculum (PAC) is serving your family well, take time to share your successes with other families.  Don't hide from other teenagers what is working for your children.  Interestingly, word-of-mouth recommendations are the most effective means of helping other families.  I try to call new customers to tell them how much I appreciate the opportunity to serve their families.  During conversations, parents repeatedly tell me how they tried other products that didn't work, and how the switch to Paradigm was a "God-send."  You can read some of those testimonials at www.pacworks.com.
A word of caution is appropriate: what works for other families may not necessarily be effective with your teenager.  Students have various gifts, talents, backgrounds, dreams, and interests.  Whereas most teenagers fall in love with our courses (print or digital), some do not, at least for all subjects.  Some students want to learn on print curriculum; some prefer digital materials.  Others want to be taught face-to-face by a parent, teacher, or tutor using hard-bound textbooks.
Paradigm is designed to accommodate students who want to complete academics as rapidly as possible, or as slowly as needed, to master content anywhere, anytime without depending on teachers who meter-out academics based on a calendar or classroom teaching schedules.  Moreover, Paradigm is carefully designed to engage both the left and right hemispheres of the brain simultaneously, thus enabling students to comprehend content with minimum frustration.  Additionally, every lesson includes a life principle that equips teenagers to make wise life choices, while avoiding negative choices that have long-lasting consequences.
By-and-large, students who try one Paradigm course end up selecting other PAC courses to finish high school.  Parents of such students gladly tell other families, thus enabling them to enjoy and benefit from homeschool with Paradigm Accelerated Curriculum.