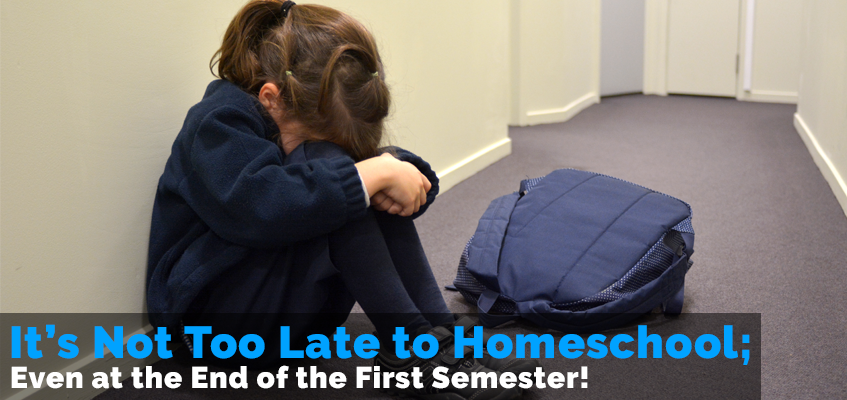 Some parents think "Next fall, we will homeschool."  Consider the implications of that thought.  Another year in a negative learning environment can damage a child and add to family stress.  It is not too late to homeschool, even in the middle of winter!  A child should never have to go through another year of bullying, inadequate teaching, boredom, or being ridiculed for expressing family values. Children deserve more than that kind of school abuse!
Fortunately, curriculum providers enable families to begin to home educate anywhere, anytime in print and/or digital materials.  The central concept of good education is learning, rather than teaching.  And bad teaching should be avoided immediately anytime it occurs.  Good and efficient learning can begin anytime or anywhere: at the kitchen table, on a couch, on the front porch, or even at grandma's house.
That is the beauty of homeschooling.  It doesn't require a professionally-trained teacher, classrooms with rows of desks, or state-approved textbooks designed for classroom application.  Parents are quite capable of facilitating learning with curriculum designed for independent study. In fact, millions of children are learning under the efficient proctorship of parents and grandparents!
Not only are quality academic materials available to families, curriculum providers and homeschool support groups offer a wide variety of instructional assistance and training that enable home-educated children to receive the highest quality of academics.  Research reveals that most home-educated children perform academically above peers who remain "stuck" in government schools. Moreover, home-trained children are usually socially well-adjusted and competent communicators with peers, as well as with adults.  That is partially due to learning in a stress-free environment at home.
So, are you sure that you want to wait another year to give your children a quality education? Give that thought a lot of thought!  If a child was about to touch a hot stove, you would not hesitate to prevent such a tragedy.  Your children's safety and well-being are at stake. In fact, they are already being "burned!"  It is not too late to homeschool. Pulling them out of an abusive school environment now can prevent severe, damaging.  They deserve your protection now!  Not next year!