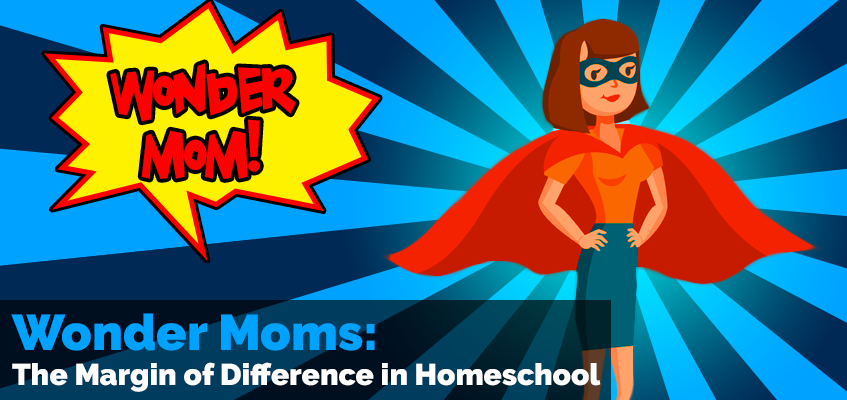 Homeschool moms are first cousins to Wonder Woman…multi-tasking from morning to late at night.  They are gallant warriors who muster an unbelievable amount of energy to manage their homes, maintain their marriages, shop for groceries, prepare meals, process laundry, deal with teenage hormones, and teach a wide range of academic subjects.  How they juggle all that load is nothing short of superior management skills.
But they can get discouraged when the teaching load gets heavy.  Such daily responsibilities can sometimes reach the breaking point, inviting discouragement to rear its ugly head to accuse homeschool moms of being inadequate.
Thoughts of giving up roar through minds made weary by pressure to "get it all done" every day.  The reality of life is that the sun sets on incomplete To Do lists of most people.  Homeschool moms are no exception.  But, because their responsibilities require multiple notches above average, they can feel obligated to do more than is realistic.
Unfortunately, some moms are tempted to give up when children reach puberty; teenagers don't seem to have to work very hard at adding emotional pressure to moms' already-demanding homeschool teaching loads.  Fortunately, new forms of curriculum designed to engage teenagers are available so that moms need not surrender to discouragement.  They do, however, need to restructure some domestic responsibilities so that energetic teenagers help carry household loads normally shouldered by moms.  Teenagers can make beds, wash dishes, prepare meals, empty trash, vacuum carpets, and mop kitchen floors.  Along with adjusting certain jobs off moms' shoulders to the hands of teenage children, the family can incorporate individualized courses published by Paradigm Accelerated Curriculum.
Paradigm Accelerated Curriculum (PAC) is available in print and downloads to smartphones and tablets, enabling teenagers to complete courses anywhere, anytime with almost no dependence on their parents.   PAC courses are a major load-lifter, enabling moms to address their To Do lists without discouragement.  Paradigm Accelerated Curriculum creates the margin of difference between delight and discouragement in homeschooling.
In fact, families who select PAC courses give weary moms time to prop up their feet, snatch 40 winks, or sprawl on the floor with toddlers who need face-to-face attention from moms.  Moreover, teenagers appreciate freedom from learning under mother's shadow, while assuming responsibility for independent learning…a necessary part of growing up.  The net result is that the entire family delights in homeschooling!