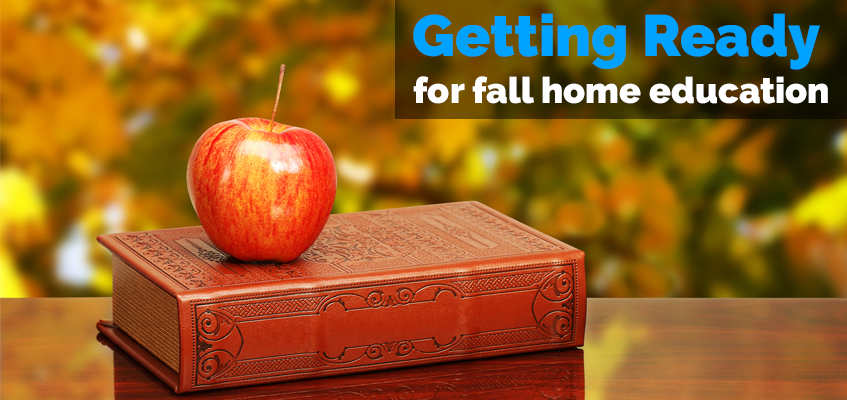 Thoughts of getting ready for fall home education affects basically two types of families:  those who are preparing to resume home education and those who are seriously thinking about abandoning the public school system.  Moreover, reasons for home educating vary among families.  Some parents are simply "fed up with" progressive, Darwinian ideology and secular values which dominate secular, government school classrooms and textbooks.  Other parents want to avoid negative influences from abusive students.  Some parents hunger for their children to learn traditional moral values from curriculum that supports traditional family values.  Fortunately, parents can find curriculum to support whatever reasons are stated for home educating children.
Here are some practical tips for getting ready for your fall education opening date:
Go on line to review the huge array of instructional material available.  Take your time to look carefully at curriculum reviews, descriptions, samples, and recommendations from other home school families.  Some publishers have learned how to market to your "desperations" and get parents to buy products that are promoted with "sizzle and dazzle" rather than substance that meets the academic needs of your children.
Decide what each child needs to fill learning gaps from previous years.  Be realistic!  Some children have not learned basic phonics, writing, or math skills needed to complete appropriate grade level academic work.  Be more concerned about providing a solid academic foundation than keeping your child at his or her grade level.
Apply your parental/teacher observation skills to determine the best learning style of each student, and then select curriculum that fits your home situation. Some students need more teacher-student eye-to-eye instruction.  Other students simply require only a place to work and a curriculum that allows the student to complete lessons with minimum teacher-student interaction.  Some students need assistance with math; other students need assistance with writing assignments…periodically or every day!  Most home education takes place via moms who are already "overloaded" with home-management requirements (dishes, meals, cleaning, transportation, etc.).  Mother-teachers need to find ways to let curriculum do as much "teaching" as possible.  Mothers with multiple children in multiple grade levels simply do not have time or energy to "teach" every lesson for every child every day.  If you like to teach a particular subject or lesson, and have time and skill to do so effectively and efficiently, then by all means do so.  But generally, good home managers teach their favorite topics, then select individualized curriculum that can "take care of" the student's academic needs without over-the-shoulder or eyeball-to-eyeball instruction from mom.
Be sensitive to signs of maturity and need for some "parental slack" as children grow into adolescence.  Parents often "forget to notice" that their children are growing up and can assume greater responsibility for daily choices.  Teenage boys and girls begin to exert their need for gradual independence from mom.  They simply do not need or want to be "mothered" all day.  Let them earn their independence by demonstrating that they can complete academic assignments independently from mother.  Begin to place on teenage boys and girls greater responsibility for carrying the household load (cleaning, laundry, lawn, meals, repair, etc), as well as academic lessons.  This practice reduces mom's daily load so she can address academic needs of specific children, and teenagers emerge confidently into adulthood.
Set up a supply management system in a designated place.  Put all instructional materials in a designated place in the home…a closet, specific table, book shelf, etc.  Label the items with each student's name and course title.  Require students to replace instructional items in their exact place whenever lessons are completed or discontinued for the day.  Make sure each student has his/her three ring notebook in which is retained daily lessons, assignments, notes, and a chart that indicates what lessons, chapters, and/or projects must be completed by the end of the school year, plus a calendar record of progress toward course completion.  This helps the student know where, what, how, and when to focus on his/her responsibilities to complete school assignments and requirements.
Keep a printed record of all assignments, grades, and courses completed.  Children need to know what is expected and whether parental expectations were met.  Moreover, an official academic transcript should be maintained for each student, especially those in high school.  Eventually, the student will need an official written transcript and diploma to validate his/her graduation from a home education program.