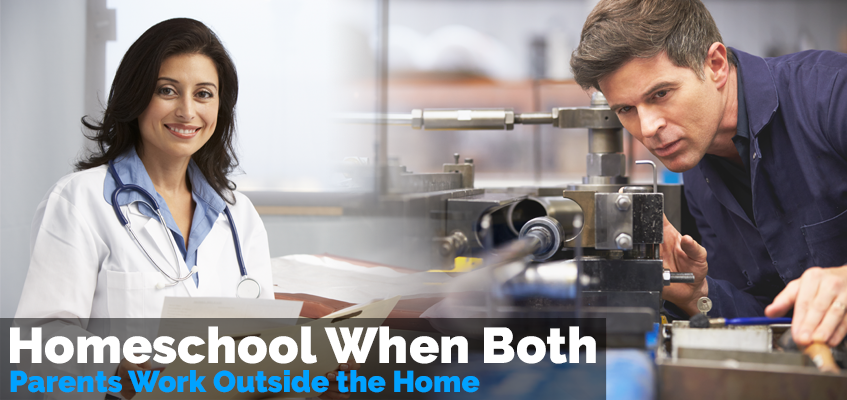 Let's be honest.  Most marriages involve husbands and wives who work in jobs, full or part time, beyond living rooms, kitchens, and bathrooms.  That is a fact of life in America.  The reasons vary from boredom within four walls, to desire for "extra" income, or pursuit of careers.  Condemnation is not the motive here.  The purpose of this article is to put into perspective the reality of life among families that still want to provide a quality education for children, while parents "do their career thing."
My wife and I are both university graduates.  We went to college in-order-to spread our wings; we wanted to discover the world beyond our front doors and sidewalks.  So will your children someday.  Aspirations, dreams, and careers are part of life.  God made us to apply talents, gifts, and purposes He created within every human.  So, if you want to work "in the world", go for it.  But, do not neglect to prepare your children to do the same.   Remember, you are able to pursue a job because someone prepared you with knowledge, employable skills, integrity, and character to do so.
Some parents falsely assume that working outside the home requires that children be enrolled in a brick and mortar building where teachers will custodian children from 8:00 AM until late afternoon.  In years gone by, that may have been the case.  But, it is no longer the only option for families.  Technology has changed the way we live.  Smartphones, internet, a plethora of print and digital homeschool curriculum, and home offices have created entirely different educational options, especially for families with mature teenagers.
Prior to 2000, homeschool options were basically restricted to correspondence schools and distinctively Christian textbooks patterned after secular hardback books, with Bible verses scattered throughout the lessons.  Such books were designed to be taught by mothers at kitchen tables.  Consequently, many contemporary families erroneously assume that homeschool requires parental face-to-face time with children during "school hours."
That is not required, anymore.  Today, mature children can acquire a quality education that actually gives students an advantage in life, without parents staying at home to prepare lessons, teach, or grade papers.  Nor, do parents have to "hook up" with online schools that require students to maintain rigid daily schedules. That used to be the case.  But now, students have access to quality digital and print curriculum that is basically parent-free, while being held accountable. Students can work conveniently with very little dependence on parental presence for providing solid academics.
That is not to say that parents are not needed.  But, curriculum providers (like Paradigm Accelerated Curriculum) have evolved with modern society to enable working families to pursue careers while children learn at home, without sacrificing quality education. In fact, homeschooled teenagers can usually learn more in four hours at home (while avoiding the pit-falls of public schools) than most children who attend brick and mortar buildings for seven hours per day!