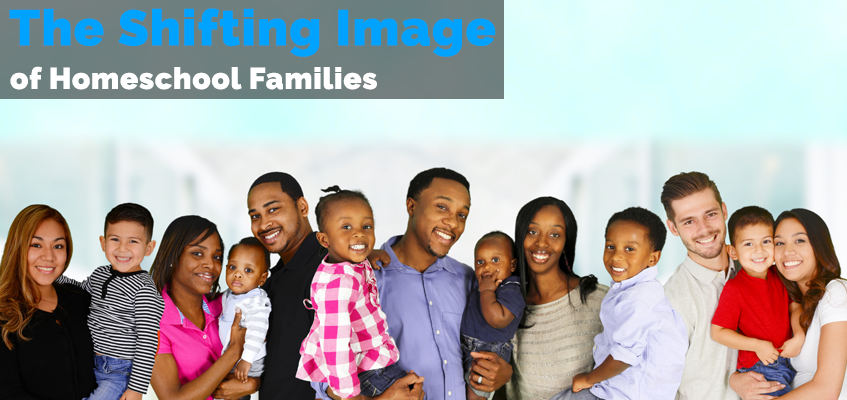 Two decades ago, typical homeschool families consisted of half a dozen children dressed pretty much like their parents.  Focus was on depicting wholesomeness based on Judeo-Christian values.  Parents wanted their children to be "good boys and girls."  Curriculum was primarily Christian in content.  Church attendance was a basic tenant of the families: twice on Sunday and a midweek prayer and Bible study experience.  Movies, television, and slumber parties were shunned. 
To some observers, that lifestyle was considered too restricted…too removed from culture.  Critics off homeschoolers claimed that children so-sheltered would lack acceptable social skills.  But, that is really what the families wanted; they were not pleased with the direction public schools and popular entertainment were taking the nation.  In order to compensate for cultural meltdown, thousands of families simply boycotted public schools, mass media, and social activities characterized by skimpy clothes, raucous behavior, progressive dogma, and foul language.    
During the same two-decade period, private church-schools began to experience population-drain.  Enrollment dropped dramatically as private schools in major metropolitan areas disappeared.  The cause was a combination of factors: a stressed economy, secularization of culture, and parental concern that many private schools catered to an odd mix of good and troubled youth from fractured homes.  Some parents, who had lost favor with their teenagers, sent them to private schools "to be fixed" by application of strict dress codes, discipline, and exposure to moral values.  A sizeable percentage of parents withdrew their children from public and private schools in preference to homeschool, where parents could control what was taught, who taught it, and when it was taught.
Today, homeschool defies stereotype description.  An estimated two-and-a-half million children constitute the homeschool population.  The composition consists of both the religious and the "merge-with-the-culture" contingent. An estimated 25-to-27 percent prefer not to be referred to as religious in nature.  Their priority includes moral values, but not necessarily those that are distinctly confessional Judeo-Christian.  That cohort of the homeschool population is best described as independent and eclectic.  They don't want packaged curriculum that leaves parental influence on the sideline.  Nor, do they want books that command students to "bow your head and ask Jesus to help you."  They do, however, want solid academics that prepare teenagers for successful careers, college life, and homes.
On the other hand, the majority of homeschool families are very interested in exposing their children to a core set of virtues, principles, and values;  parents want curriculum that does more than fill youthful minds with facts, figures, and formulas.  Most parents want their children to be smart in information, while being strong in character, self-discipline, and moral values.  Moreover, parents disdain the tendency of public schools and secular textbooks to expose youth to "the real world" of violence, explicit sex, progressive politics, and crude lifestyles.
Consequently, the contemporary homeschool arena constitutes a unique mix of American culture.  Some local homeschool support groups cater to families that share a core set of values.  Some groups want to be known as distinctively Christian families.  Other groups have a more open-arms approach…everyone welcome.  That wide range of participants is impacting the focus of curriculum providers.  Two decades ago, church-based schools and homeschool families had to select books from about six basically Christian publishers who provided packaged programs. 
Today homeschool families can go online and select hundreds of educational items ranging from songs about Jesus to reference materials on rare birds in the arctic.  And, excellent eclectic materials are available in print, downloads, and online. Ironically, those original six Christian-focused publishers are losing huge market-share percentages as other providers slip into the private academy and homeschool arenas.   Entrepreneurs are catering to the escalating parental preference for the eclectic approach that allows individualization of educational plans.  Homeschool families want to "tailor make" their instructional program around family values and students' talents, temperaments, goals, and interests.  That, of course, is what homeschool is about…meeting individual preferences rather than allowing other adults to shape the minds and character of the next generation.